Microsoft found a new way to increase usage of its browser, Edge, and search engine, Bing. The Microsoft reward was previously restricted to the United States only, but has now made its way to India. It allows users to earn simply by searching Bing from Microsoft Edge. Users can redeem them for Amazon and Flipkart gift cards.
The deal was first spotted by a Desidime user and has been confirmed by a few people. So how can you get a free Amazon or Flipkart gift card through Microsoft Rewards? We will check, but before that, let's know what exactly Microsoft Rewards is.
What is Microsoft Rewards?
Microsoft Rewards is a completely free program that allows you to earn money by doing your daily activities. Every time you search on Bing, buy something from the Microsoft store, or take surveys or quizzes, you earn points that you can redeem for a gift card from a specific brand. All you have to do is log in and search, it's that simple.
Note that Microsoft Rewards only works on systems running Windows 10 or higher. Microsoft Rewards was previously known as Bing Rewards. For each search, three points are added to your rewards account.
Oh, and if you or someone in your family owns a Xbox consoleyou can earn points by completing a few tasks on the console.
How to Get Free Amazon and Flipkart Gift Cards from Microsoft
To get free Amazon or Flipkart gift cards from Microsoft, you need to earn Microsoft rewards points. To do this, you must create an account on Microsoft rewards website. Now all you need to do is open Microsoft Edge and sign in with the same account you used to sign up for rewards.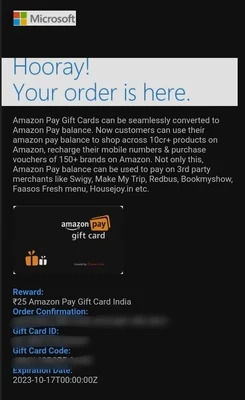 You just need to change your default browser from Google to Bing in order to earn points quickly. You will get points for every search you perform on Microsoft Bing. You can redeem your 400 points for an Rs 25 Amazon or Flipkart voucher. Each day, you can only earn 33 points, which means it will take you at least 13 days to redeem these vouchers.
Once the milestone is reached, simply redeem them and Microsoft will send you an email with your gift certificate. If you don't want to redeem a voucher, you can donate the amount to charity.
There is an advantage for those who plan to use it regularly. You can reach the next level by using it daily. Once you reach level 2, you can earn 100 points per day, which means the voucher can be yours in just four days.
Also, if you are not much into shopping, you can get a Rs 250 BookMyShow gift card by redeeming 4000 points.
Thanks for reading till the end of this article. For more informative and exclusive technology content, such as our Facebook page