Remember to use the original Yahoo Mail inbox? Probably not, if you're a millennial or Gen Z, but it was certainly one of the most iconic early Internet experiences of the 1990s and 2000s – one that I remember fondly with a deep sense of nostalgia. It wasn't long before I stopped using Yahoo Mail somewhere in the mid-2010s, migrating to Google's Gmail and Microsoft's Outlook apps. I felt sad for Yahoo's decline in the years that followed; but that's all I felt – sad – before I completely lost track of Yahoo.
So imagine my surprise when the Yahoo team reached out to me last week for a demo of their new Yahoo Mail app – an email service I had stopped using over half a decade ago. What could they possibly have to show?
"When Yahoo Mail was first introduced 25 years ago, users didn't have the same amount of digital information they have today," said Josh Jacobson, SVP and GM of Yahoo Communications. Changing user needs, new consumer trends and technology are coming together to create diverse and novel use cases for how email can serve new generations of users, he added. .
The bulk of consumer engagement in personal email accounts is with purchase messages (50% of opens) and business messages (interpersonal communication only accounts for 7% of opens). This is especially true for younger users, according to Josh Jacobson: 46% of Gen Z users cite discounts and purchases as the top motivator for new email signups (-2x that of other users).
There are approximately 4.1 billion email users worldwide, and usage remains high even among young consumers (90% in the 15-24 age group). Yahoo Mail users are decently engaged, according to Yahoo – half of Yahoo Mail users open the app at least three times a week and more than 20% visit more than 26 days a month. But the question is why? What do they get in Yahoo Mail that they aren't potentially served elsewhere?
"Our teams received lots of feedback, we conducted surveys and spoke to both existing users and potential users like you and understood that when people manage their personal lives, they manage what we call the business of life. Buy things online, coordinate with others and exchange information. And so essentially what we've created is a suite of tools within Yahoo Mail that helps people stay organized and on top of what matters," Josh said.
According to Shiv Shankar, product manager at Yahoo, the new Yahoo Mail app aims to reduce unwanted noise in your inbox, helping you focus on the important signals in a fresh new look that's not just another layer. – it's intuitive and aims to solve the main problems of users.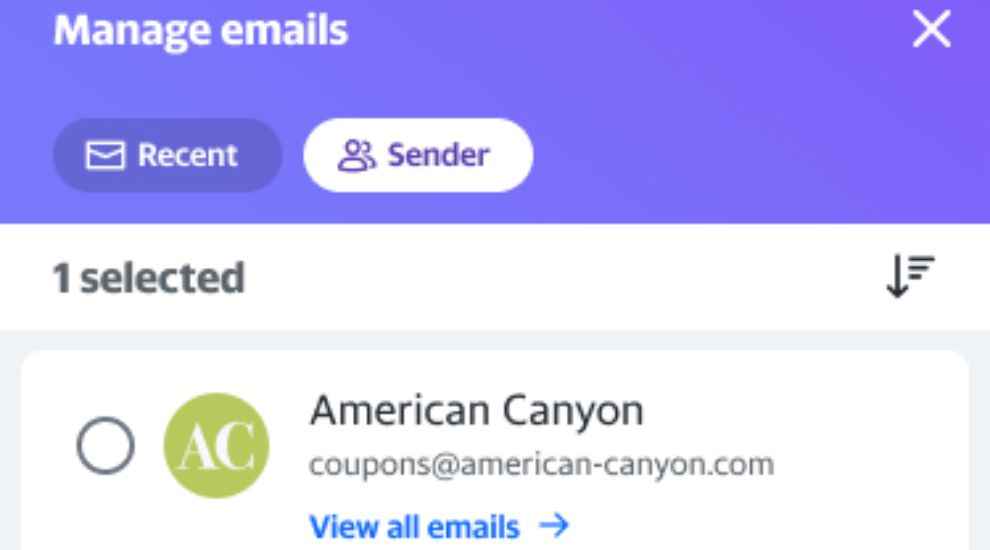 Believe it or not, users love having so much stuff stored in their messaging app, which adds to the signal-to-noise ratio according to Shankar. "How can we help users find what they're looking for in a simple and easy way, and that's how we introduced the new navigation line at the top. With just one click, you can see all attached email files in one place, without having to search or do anything more than just click on the tab. This helps reduce user inbox anxiety and makes them feel more organized," Shankar added.
In addition to the new and improved "Top of Inbox Navigation" feature with contextual filters designed to increase awareness and find what matters most to Yahoo Mail users, two other new features have been added. to the messaging app. The "Group by Sender" feature allows you to "group" emails by domain to quickly find important messages, offers or delete all messages from a sender at once with one click. The "View Receipts" feature allows you to view receipts for all orders at once, to easily track your purchase history.
Additionally, Yahoo said the new Mail app also comes with features like free trial tracking, where Yahoo Mail users (who sign up for a free trial service online) are notified three days before the free trial expires so users can make a conscious decision, apparently a feature that no other free messaging app offers. This is how Yahoo helps users stay on top of the things that really matter to them.
Additionally, Shiv Shankar confirmed that there are plans to offer more configuration and customization options to users of the Yahoo Mail app in the near future, especially regarding pinned tabs to the toolbar. app top navigation. For example, instead of a 'Travel' tab, I could customize a 'Newsletter' tab, to have quick access to all my newsletter emails. I envision this personalization feature as an advanced filter when it eventually launches, the timeline of which Yahoo didn't comment on at the time of my interview with Josh and Shiv.
Of course, the main reason to start using the Yahoo Mail app is the free 1TB inbox it offers – no one offers so much storage for each inbox, not even Gmail or Outlook. Free Yahoo Mail users will see advertisements in their inbox, while subscribers to Yahoo Mail Plus (the Pro inbox service) allow you to remove all advertisements entirely, if necessary. Getting into Yahoo Mail is free – which is amazing – and people can then choose which experience is right for them if they want to pay as you go later or stay free for life, one or the other is for Yahoo.
As a returning Yahoo user, I'm more than happy to give their messaging app a second chance. Whether it ends up becoming my daily inbox, only time will tell. Have you tried the new Yahoo Email app? What do you think of all the new features? Let us know in the comments below and keep reading Digit.in for the latest tech news and gadget reviews.
For more technology news, product reviewssci-tech features and updates, keep reading Cipher.in.